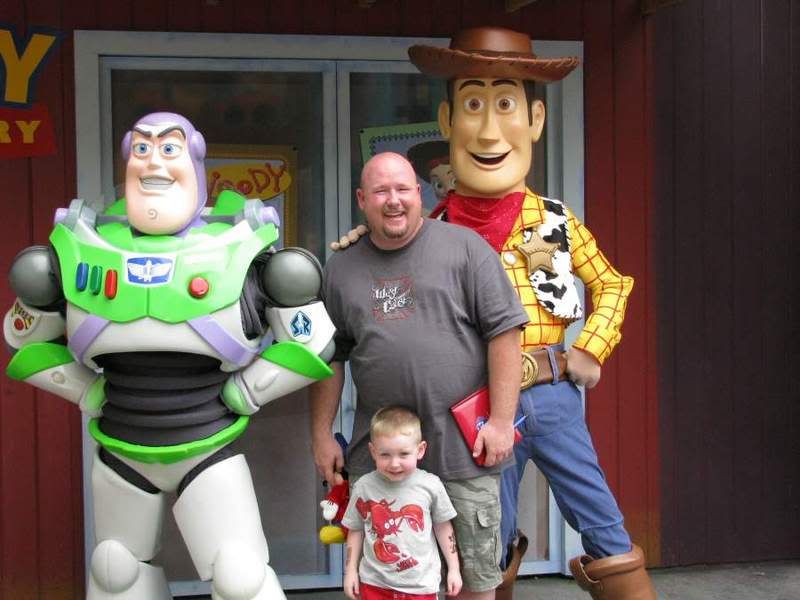 Day 5, Wednesday the 11th

Today was the day we planned on spending at Hollywood Studios (formally MGM Studios). To start our day we had a breakfast date at Playhouse Disney located at Hollywood and Vine. I have to say, the kids and adults were quickly becoming a big fan of the Mickey waffles and all the fresh fruit. I really liked this place because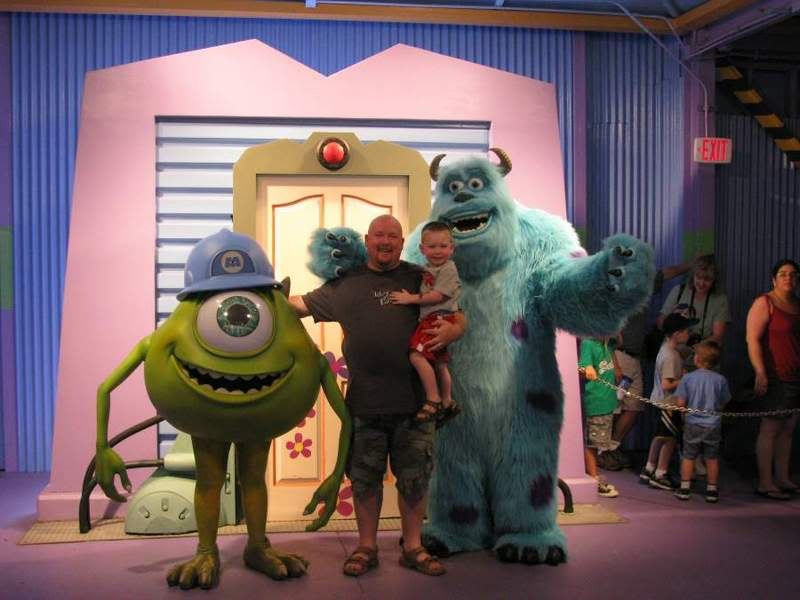 the music they played while you dined all came from the Playhouse Disney shows, so it was very familiar to Chase and he would sing. We got to meet JoJo, Goliath, June, and Leo while we ate and even got to do something dancing. Again, another hit with the dining plan!

Jeff loves Hollywood Studios because this is where his beloved Star Wars ride in located. Unfortunately Chase wasn't tall enough to ride it, but we did give it a good try and he got to see the inside of the building, which is really the best part (in my opinion) anyway. We also go to watch The Muppets in 3D. Chase loved it, Madison
hated it. I guess a muppet with a huge nose coming right at you could be a a little scary if you're only 3!! After the show we happened upon Buzz Lightyear and Woody from Toy Story. I had no clue they were so big!

As I've posted before, Disney Cars is highly thought of in our house and is actually how Chase's room is decorated. I was surprised that there wasn't much to do with Cars at Disney since they are so popular, but did find out that there was a meet and greet with none other than Tow Mater and Lightning McQueen!!! We grabbed the schedule to see when they would be out and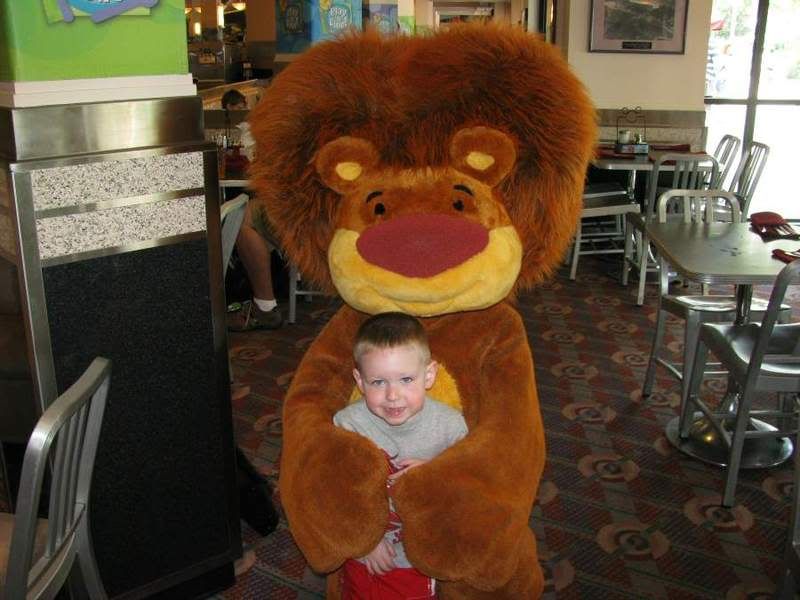 quickly made our way over there before the line got too long. They don't sign autographs, but it was really neat to see them in life-size form. The cars are actually driven out and rev their engines while you're getting your picture taken... very cool!

After our Cars meet and greet we went to see Sully and Mike Wakowski from Monster's Inc. I wasn't sure sure that Chase would be willing to take a picture with them, but he did! I tell you, that Sully costume has got to be one hot get-up!!! No thanks!

Since we started planning our trip and looking at books Chase has been amazed with the new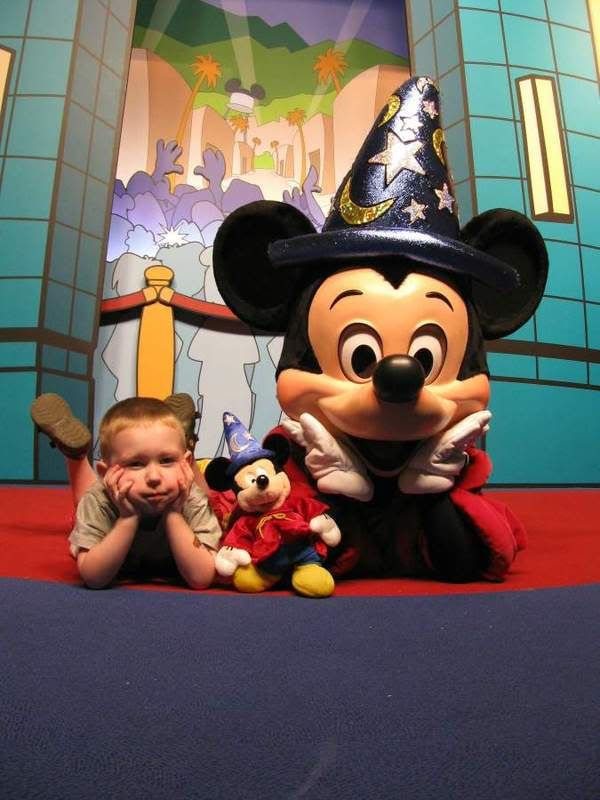 Toy Mania ride based on Toy Story 2. If you are not familiar with this ride, I HIGHLY recommend it. However, I will say that you need to go early because the the wait in LONG (as in 1 1/2 hours) and they run out of the FastPasses quickly (learn more about those at Disney.com). I really wish I had known this before, because we would have loved to have rode on this one more than once. By the time we got there the wait was way too long and the FastPasses were all gone. I was so sad. I asked a girl if there would be more FastPasses for people staying at the resort and she said no. To make a long story short it happened to be Hollywood Studios night for extended hours for Disney guests and we did get to ride it that evening.... LOVED it!

That evening we dined at the Polynesian Resort, which was awesome! To top it off we had a great view of the fireworks for Chase, because by this time, daily fireworks were a must!

Day, 6, Thursday the 12th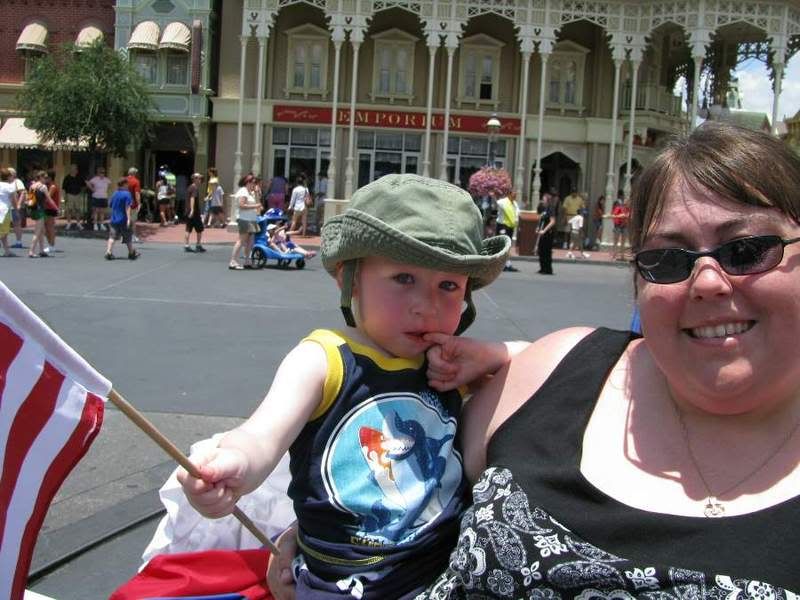 Thursday brought our first visit to the Magic Kingdom. Magic does not even begin to describe it! This place is awesome. The place is huge, but there is so much going on that you can walk it with out feeling like you are walking across eternity. We arrived just in time for the Family Fun Day Parade. This a parade where they pic people off the streets to participate and you would NEVER guess who they picked! Yep, we were in the parade! Unfortunately we were so busy marching behind Clarabelle Cow and waving our flags that I only have one picture, but I can tell you it was a pretty neat experience (if you don't count that I carried a 35 pound toddler all
the way down Main Street in the 95+ degree weather).

After that we went on the Buzz Lightyear right which was a huge hit with Chase. I think he would have ridden that again if we had let him (we did later). We had been told that Mickey and Minnie both resided in the Toon Town area and sure enough we found their houses side by side. I had brought Chase's Mickey costume w/us in hope that 1) this Mickey was in the a/c where we could slip it on Chase without him getting a heatstroke and get a picture and 2) this Mickey would be dressed similar. Score on both! We went into a shop and were directed to where Mickey AND Minnie were greeting together. When we put the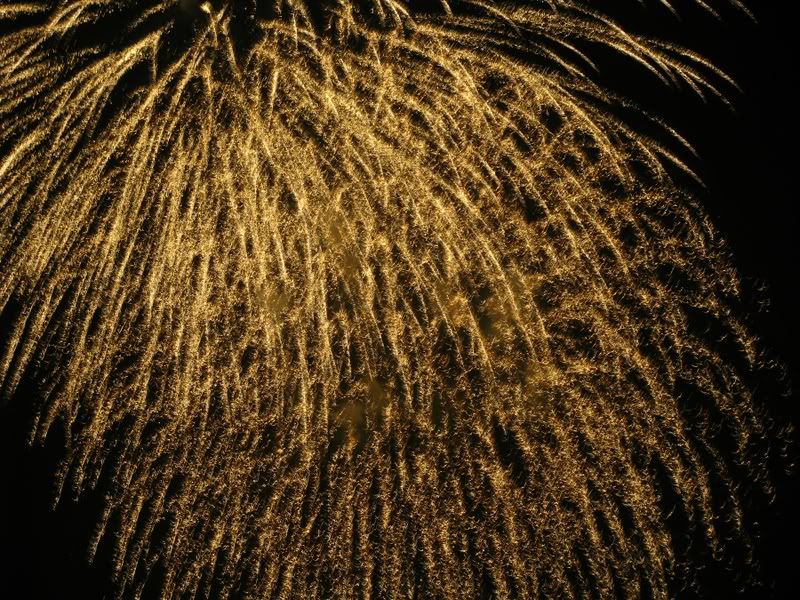 costume on Chase the lady fell in love and said that in all of years of working at Disney World this was the first Mickey she had ever seen. I can't tell you how many comments we got about that costume and our cutie. Not that my ego needed inflated by any means, but it was!!!

After waiting in the Mickey's Judges tent for a good 30 minutes or more we were finally taken into the room to see Mickey and Minnie. The FastPass Camera person, the worker, and Mickey and Minnie all fell in love. Chase was offered a job as a backup for Mickey and they came to the conclusion that if Mickey and Minnie had a child, Chase would be the result. These are my favorite pictures from the entire trip because Chase is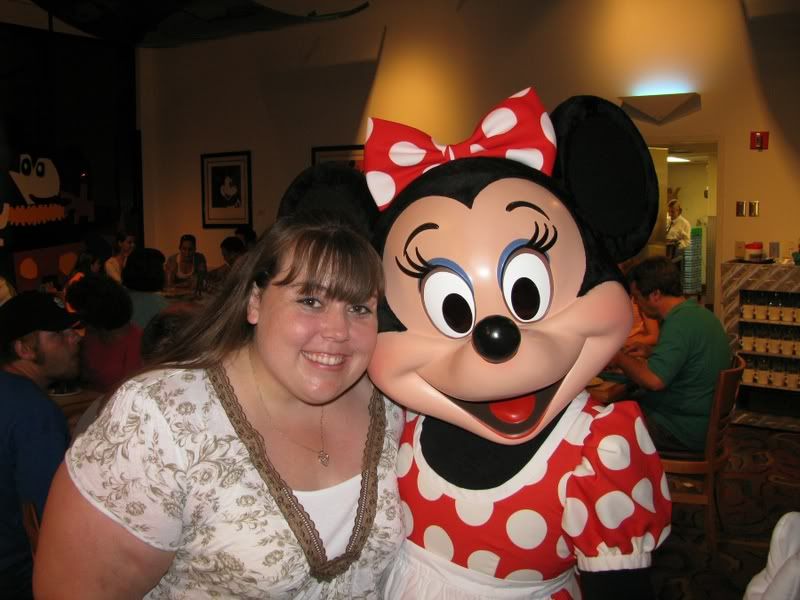 so happy, his eyes are just shining!

After leaving Mickey and Minnie we made our way to the teacups. Jeff is pretty strong and had us spinning really fast. I think Chase enjoyed it about 80% of the time and Duchess about 0%. We were pretty lucky she didn't lose it on the ride and decided that perhaps we needed to skip that one for a 2nd ride.

Next came Chase's favorite ride of the entire trip, The Winnie the Pooh ride. I'm actually surprised this was his favorite, but he is so simple and sweet that when you think about it, it makes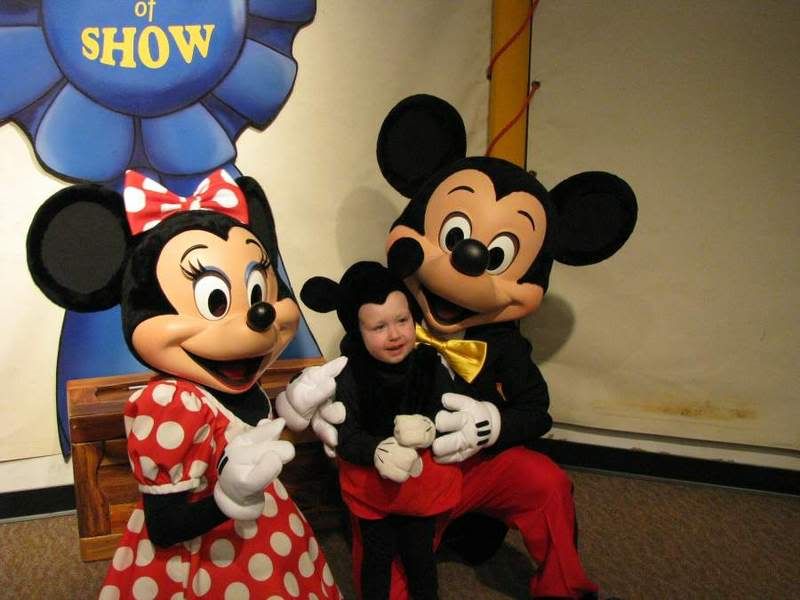 perfect sense. The ride is just like that, simple and sweet. We also made our way to his 2nd favorite ride, It's a Small World. What do I say, there is no ride like that one... it just never gets old (even after you've ridden it 3 or 4 times).

The evening brought the best meal of our entire trip, dinner at The Crystal Palace. It was fantastic!!!! We got to meet Winnie the Pooh, Tigger, Eeyore, and Piglet. This was the first time the kids had seen Piglet, so they really liked that. I would highly recommend this restaurant if you dine at the Magic Kingdom!

Jeff and I had really wanted to ride The Haunted Mansion and what better time to ride it than at dark?!?! We had been prepping Chase for this ride for months because we didn't want him to be scared and he did great! He wasn't sure so about the music, but we just talked him through it,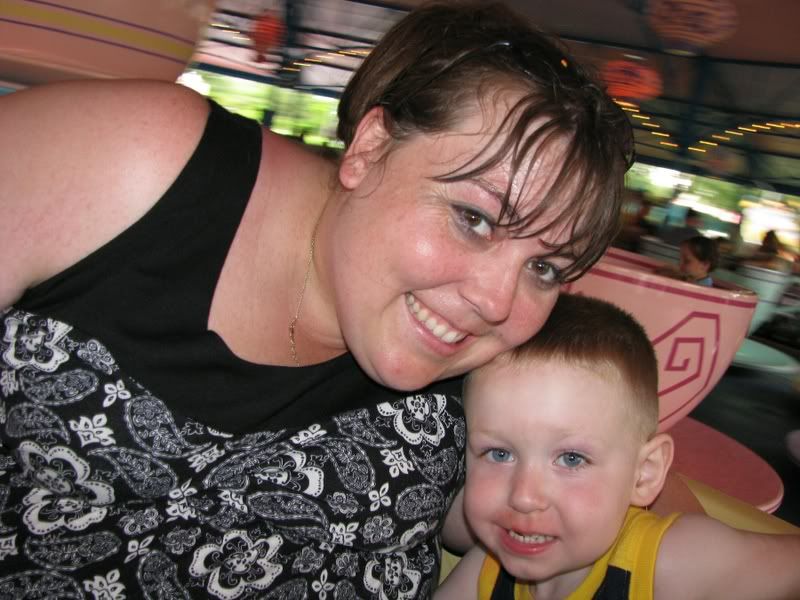 told the "scary" ghosts to "get outta here" and held him close. I think his favorite part was at the end when he saw the hitchhiking ghost in his lap. He looked all over for that guy! It was too cute.

Since it was getting late when we left The Mansion, we decided to stick around and watch the fireworks up close. The timing was perfect and we found a spot nice and close to the castle. Chase was in awe as Tinker Bell flew by and he watched the fireworks in amazement. That was a memory I'll never forget. As the lights in the trees twinkled and the fireworks flew the air, I was in heaven. I could live that moment again and again! We thought we'd go ahead and head towards the hotel after the fireworks, but the rush to get to the gates was insane! So we just plopped down on the sidewalk, grabbed a rootbeer float, and decided we'd go ahead and watch the electrical parade... I'm glad we did! A Disney worker stopped by with some "magic" pixie dust and Chase got to blow the lights on Main Street out when the parade came. He did wonderful w/the parade and there were only a few floats he didn't like. Did I say I'm glad we stayed??? Because I am!!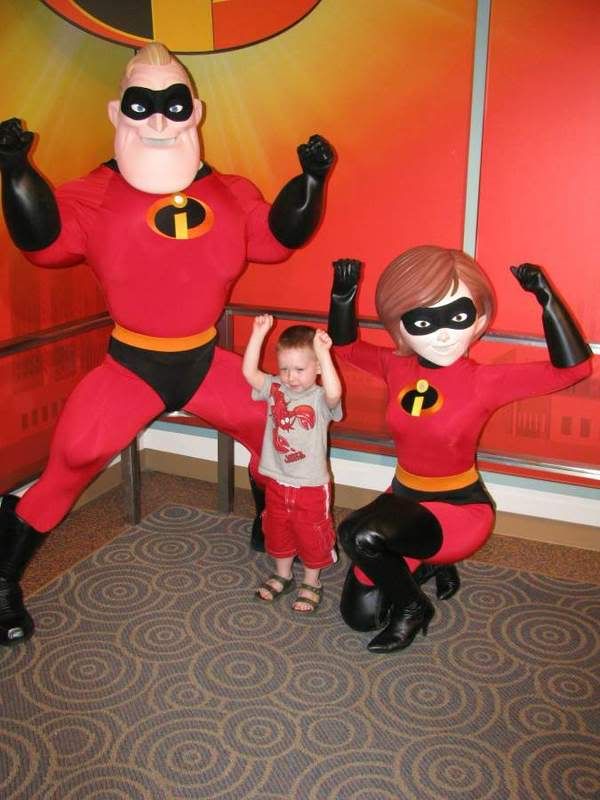 We finally made our way back to the hotel and got in bed for the night.... another magical day at Disney!