***I will add pictures later tonight or tomorrow, I have to put Doodlebug in the bath and bed... sorry! To wet your appetite try this link, I've added more pics! Click HERE!**

Day 3, Monday the 9th

Day 3 brought us to Animal Kingdom and plenty of adventure! We started the day off by joining
Donald, Mickey, Daisy, Minnie, and Goofy for a late breakfast at The Tusker House restaurant. Donald even chose Chase to dance with him... wonder if I could upload video for that??? I'll have to try that later. After breakfast we made an attempt to get pictures with Ballou (sp?) and King Louie. That didn't go over so well and the only picture we got was Daddy posing with them. Seriously though, King Louie is a little rough looking around the edges so who can blame him?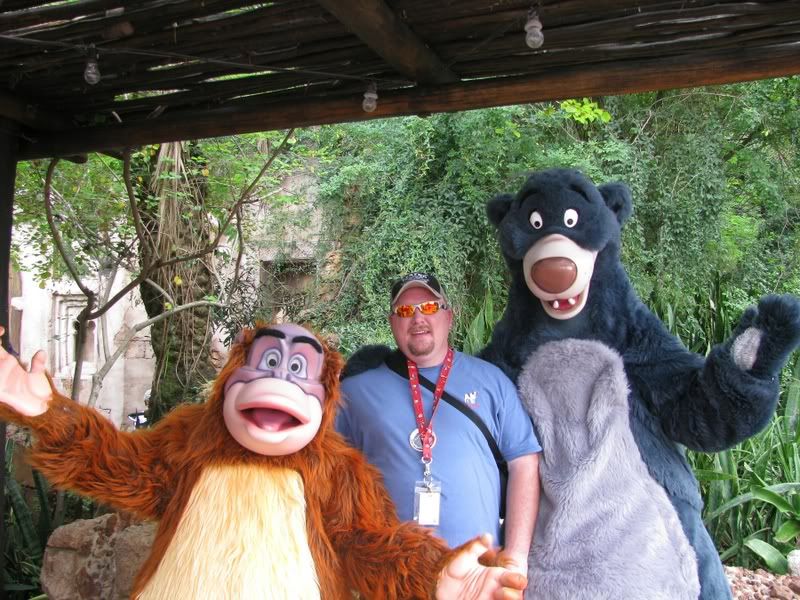 We decided to go ahead and grab a Fast Pass for the safari ride because the line was unbelievably long. I guess that is the must-do ride at Animal Kingdom. Since we had time to waste until our passes were good went on the train ride and over to the back of the kingdom. I'm really not sure what this is called, but it had the veterinarian area in it and the kids were able to look through the glass and watch them perform xrays on a bird of some sort. We also got to meet Jimney Cricket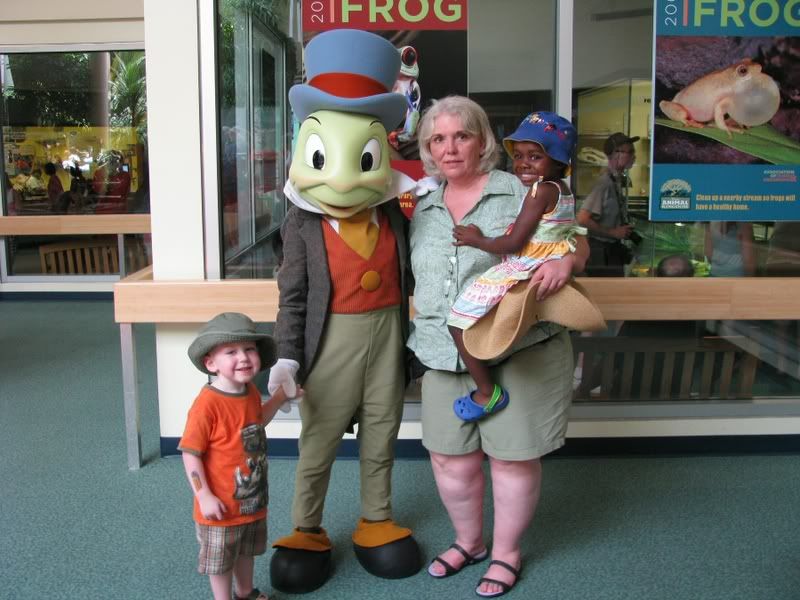 and Rafiki (no so fond of that one either). Since we have a petting zoo at the Houston Zoo we chose to skip that part for sanitary reasons... honestly I just didn't want to have to run after Chase and some stinky goats in the 95 degree weather!

After taking the train back to where we originated we grabbed some not-so-frozen lemonade and then made our way to the safari. There were so many different animals that the kids didn't know what to look at. Other than the fact it was pretty bumpy for picture taking, it is a really neat ride. I'm amazed at how big that place is!


Unfortunately Chase and Mads were not tall enough to ride any of the other rides, but we did get to go to Mickey and Minnie's camp area. There were a few shows that we missed by minutes and chose to skip due to the wait, but we did get to meet Minnie and Goofy. Donald and Mickey were there too, but had to go on break... that seemed to happen a LOT! We were having dinner with them later though, so no big deal.

Just as we were heading out we ran into non other than Lilo and Stitch! While waiting for our turn to take a picture it got super windy and there was thunder. A worker informed me that there was a major storm on the way and they
had moved the parade up 5 minutes. That was nice because we didn't even realize they were having a parade, guess that's what we get for paying attention to the guides we picked up! We figured it would be neat to see the parade and we had plenty of time to grab some prime parade-watching seats! As we were about to head to the parade route we got to meet Turk from Jungle Book 2. I was shocked Chase was willing to take a picture with her, but he did. We finished our day at The Animal Kingdom by watching the parade and getting to wish the famous Donald
Duck a very Happy Birthday!

We made our way back to the hotel so that we could nap and get ready for our big dinner at Chef Mickeys! This dinner had come highly recommended and we were VERY excited about it! Chef Mickey's is located at the Contemporary Resort and had the following characters there: Mickey, Minnie, Donald, Pluto, and Goofy. We decided to take Chase's Mickey costume with us
because we knew we wanted a picture of him in it with Mickey and this was a great chance because it was air conditioned and our little guy wouldn't completely roast!

When we arrived at Chef Mickey's and got seated Chase and I raced off to the restroom to change into his Mickey suit. We got back just in time and the response to our cutie was unbelievable. I think everyone in the restaurant had to see him for themselves. The characters really played it up for Chase and he was so excited. Mickey even came to take pictures with us twice and Pluto showed us his name tag that read, "If found, please return to Mickey Mouse." I think he wanted to come home with us!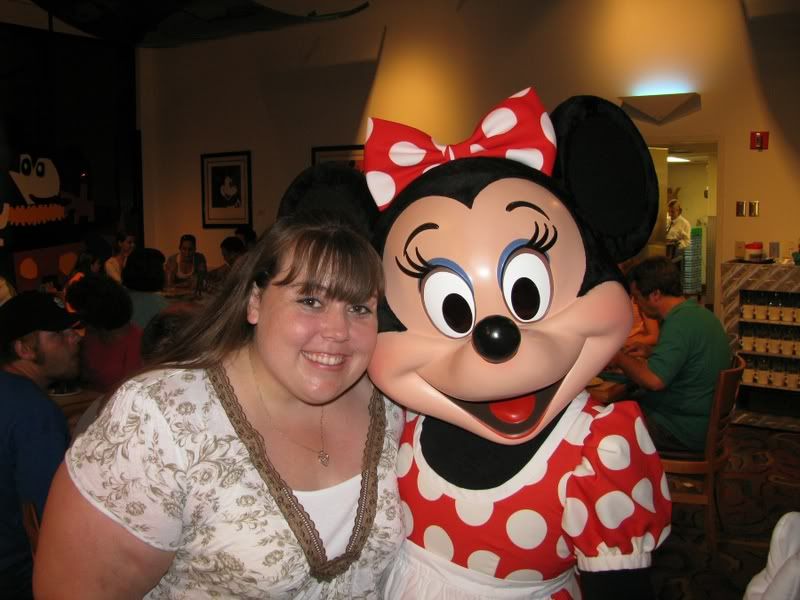 Our dinner ended just in time for us to go to the viewing deck and watch the fireworks from the Magic Kingdom. They were beautiful and they had the music playing on the speakers, which was a nice addition. I'm not sure if Chase loved the way they looked or how loud they were the most! It was a magical evening indeed!

Day 4, Tuesday the 10th

*Disclaimer: Somehow we managed to not get one single picture from Day 4... out of over 1000! I guess we didn't take the camera since we were going to the beach and then we just never thought of it again. Ugh!*

After two very busy days we decided that Tuesday would be a good day to take a break and relax. Duchess really wanted to go down to the Beach so we loaded up the van and headed off. It was so nice being able to do whatever we wanted, whenever we wanted. Life is also so busy and scheduled for us, the break was awesome. The day was overcast and rainy, but it cleared up fairly well by the time we arrived at Cocoa Beach. The beach was not very crowded and the kids loved it. I'm not the biggest fan of sand, but I managed to have a good time.

Chase showed absolutely zero fear of the water, which was a little scary to me. The under toe
was so strong, we could barely hold on to him. We decided real fast that the best place to be was where the waves were breaking and just barely touching us. Jeff did let him *surf* using his kickboard and he loved it. I have feeling he's going to be just like his Daddy when it comes to big bodies of water... love 'em!

We left the beach in the late afternoon, grabbed some seafood, and made our way back to the hotel. Not very surprisingly the kids wanted to go swimming at the pool, so we gave in and headed over. By this time is was getting pretty late and was actually cold, so I convinced them it would be more fun to go get a bath, have some chocolate milk, and eat a Squish Cake Roll (a.k.a. Swiss Cake Roll). Another perfect evening!