I think I heard someone saying that it had been too long since I shared pictures of Chase. OK, maybe I didn't really *hear* that, but I'm sure that lots of you were thinking it!

With the upcoming arrival of Halloween 2007 Chase and I have been having deep conversations on what he would like to be for Halloween. As a recap of Halloween past we have:

Halloween 2005 (skunk and Larry the Cable Baby, hey - it was hard to choose!)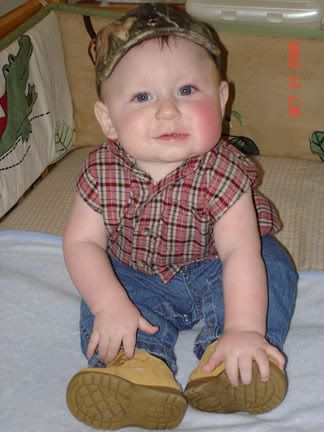 and

Halloween 2006 (we orignally purchased an awesome Tom Arma Monkey costume, but Chase freaked when I put it on him so we decided to go as his future profession: a doctor)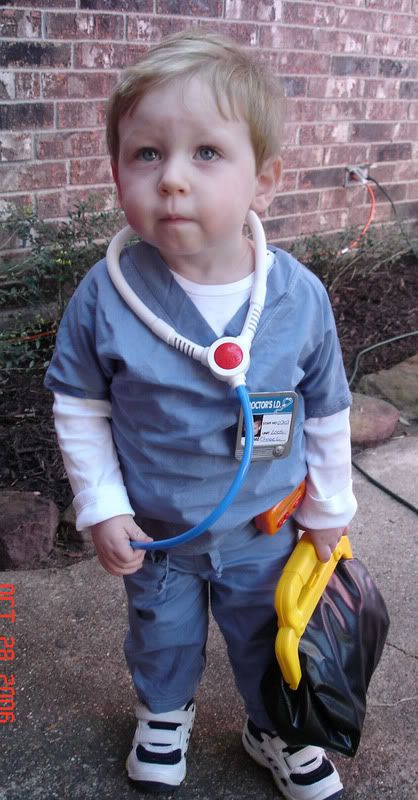 This year I figured Chase was old enough that he could give me some hints as to what he wanted to be. If you know Chase, you know that he LOVES Mickey Mouse. Actually the word LOVE does not even do it justice. If he could get rid of me and have Mickey as his Mommy, he'd be tempted. So I was not the least bit surprised when he gleefully exclaimed that he wanted to be Mickey! I found an adorable Mickey Costume on ebay (boy those things are pricey for something you are going to wear for an hour) and purchased it, figuring that he'd take one look at what he was supposed wear on his head and run screaming. Not to mention how I figured he'd react to the gloves.

Needless to say the costume was waiting in the mail when Daddy and Chase got home and I found the cutest little mouse smiling at me when I walked in the door. Now how freaking adorable is this?!?!?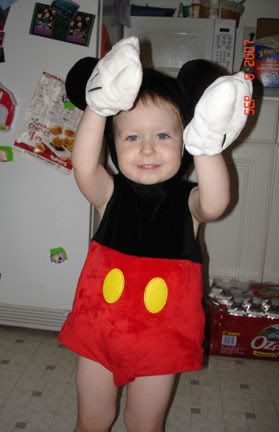 I'm amazed he's wearing it and absolutely thrilled. I am going to get black pants and a black long-sleeve onsie and then it will be complete. I think I'll have to get the bigger size up though because somehow I managed to get a tall/thin kid (how did that happen) and the stride is almost too short. We had to fight to get him to take it off and I have a feeling that we are going to get lots and lots of wear out of this one! Wonder if we'll be Mickey Mouse again next year!

Oh and just for kicks, here's our bulldog Molly after Chase goes to bed at night! I think this picture is hilarious and says "oh so much" about our wild one!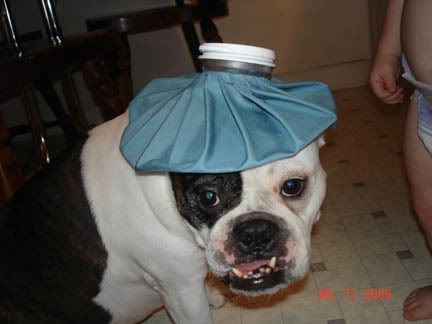 "Oh My Aching Head!"