Since summer vacation is quickly coming to an end we are certainly doing our best to make the most of it. Chase and I have been going nonstop and having lots of fun on the way! I still can't believe that this time next week we will have just finished our first day back at work/the sitter. It makes me so sad to know that in the blink of an eye our carefree summer days are gone.... until next year of course!

So, lets see what we have been up to this past week. First, Chase got some awesome new Mickey pajamas. Mickey is definitely one of our favorite fellows,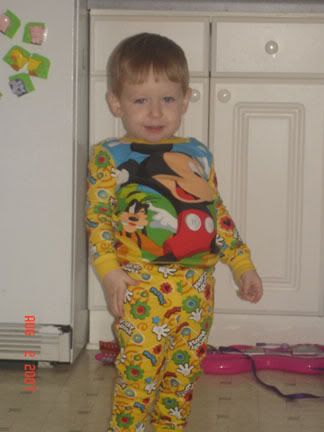 so the pj's were a BIG hit! Of course we insist on wearing them just about every night, so that can be a bit of a challenge!

We also went to Galveston for the day on Monday. Our friend Andy turned the big 0-4 and we went to celebrate her big day with her! We had so much fun, but were certainly worn out by the end of the day! Celebrating birthdays is hard work!

We began by blowing bubbles on the balcony and then we went to Moody Gardens to see the life-size dinosaur exhibit. It was awesome if I must say so myself! The
dinosaurs looks so real and were huge!!! Unfortunately they were a little *too* life-like for Chase's liking and he was pretty sure that at any moment they would make a meal out of him or one of his buddies. It was pretty cute, although I don't think he thought so! At the end they had a dinosaur dig that Chase adored. He dug and dug and dug and then dug some more just for good measure. The only thing he wasn't impressed with was the sand in his crocs. Apparently we need to get to the beach more so he can get used to the feel of sand between his toes! That evening we went to the Rain Forest Cafe for dinner. It's amazing how much they have going on in that place. Fish swimming in the walls, waterfalls, rainstorms,
gorilla's banging their chests, it's just so busy! Fun was definitely had by all!

Moody Gardens is pretty awesome and has a neat white beach that you can buy tickets too. The water is actually pools and chlorinated so it's soooo much cleaner than Galveston. Not to mention the whole flesh-eating bacteria scare that's going on there right now! It definitely made the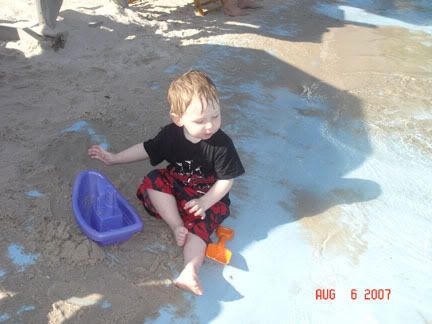 Moody Gardens Beach look much more inviting! It was not crowded at all and the breeze made for a really nice afternoon. Chase finally gave in to the sand feel too and decided that maybe it wasn't so bad after all!

Tuesday we went to a small water park in Houston and met up with a couple of other friends. Too bad I never took my camera out for pictures! Thursday we went over the Aunt Stacy's and Chase played in the kiddie pool while we visited. So simple, yet he has so much fun. It's a good lesson to slow down and enjoy the little things! He also got a haircut and loves to have it spiked.
I think it's pretty cute myself, except he looks way too big! Where is my tiny, little baby?!?!

I guess that about sums this week up! Tomorrow we'll be going to Andy's birthday party and then just taking it easy. Hope everyone else had a great week and an even greater weekend!