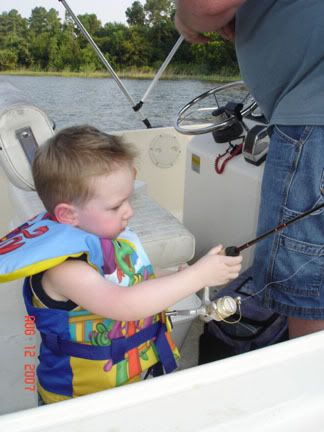 Jeff's dream job would be to be a Captain of a fishing boat. I would LOVE for this dream to come true, but we both won't be holding our breath on that one. Of course, since I love to fish too I'd be the co-captain! ;o) We live near both several lakes and the ocean so there are boats everywhere. Lake Conroe is literally just down the road and on a pretty Saturday you're lucky if you only have to wait 10 minutes to get to the gas pumps because there are so many boats getting ready to go out on the water. For years Jeff would look in awe and say how much he'd love to have one. In June of 2006 we happened upon a spectacular deal and became the proud owners of a 17 foot, 2 inch center console Sea Hunt (a.k.a. Chase N Dreams - like the name play!). You'd think that since the lake is so close we'd be out in it constantly but life always seems to get in the way and we don't get out near as much as we'd like.

Recently Chase has decided that the boat is no longer Jeff's and is actually his. When it comes into view he screams, "Wook at my boat!" or "Ders my boat!" It's actually quite amusing and very cute! Even cuter is when Jeff is pulling the boat and Chase begins to scream, "Where my Daddy go wit my boat?" I think I have another fisher on my hands!!


From the time Chase was born Jeff couldn't wait for him to be big enough to fish (and hunt). He has been teaching Chase to reel the fish in using his Shrek pole and on the PS2 with the pole that went with some fishing game. If you tell Chase to reel the fish in, he knows EXACTLY what to do. Chase has been out on the boat several times, but we haven't actually fished with him on it. He loves going out on the boat and has been telling us he wants to go fishin' for a couple of months now. So, since my cousin that likes to fish came in to town this morning and the weather was nice (if you can call 101 degrees nice), we figured we'd go out fishing this afternoon.

I am happy to announce that Chase has indeed once again taken after his father and is a true fisherman! With a little help from Duchess, in the casting and hooking department, Chase has caught his first fish!!!! He was so excited and concentrated very hard on getting it into the boat. It was pretty darn adorable! When I went to release it he wanted to help, but not before giving it a kiss and telling it, "Goodbye Fishie!"
Now how many guys do you know that not only care about the environment and *want* to release it, they also give it a kiss just to let it know how much they care! That's right ladies, get in line, I can already tell that my little guy is going to be a heart breaker!